With over 30 years coaching experience our Head Professional, Andrew Butler has earned himself an envied reputation as being a highly skilled and knowledgeable golf instructor best placed to getting the very most out of each individuals game.
Whether you are a raw beginner, an improving intermediate or an established player looking to reduce their handicap Andrew's enthusiasm, patience and skill will lead to results you had only previously dreamed of!
My coaching goal for anyone I teach is to increase their enjoyment they get from playing golf be it by hitting further and straighter, holing more putts, being more consistent, greater confidence, reducing their handicap or a better short game - whatever it takes to achieve that success.
Lessons start from just £25.00 for a 30 minute session with discounts available for courses of 6 lessons or more.
Contact us on 01225 742634 x1 or email: golfandleisure@hotmail.co.uk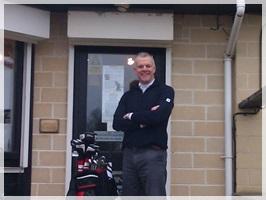 Junior coaching
Whilst junior coaching is always available on an individual basis we also operate a weekly junior coaching group session run by our specialist junior instructor Michael Reeves.
These sessions take place on Sunday afternoons from 2pm - 3pm and 3:15pm - 4:15pm. There is no need to book and the cost is only £3 per child with non-members very welcome. We also provide any equipment required.
Tuition Packages

I offer an array of lesson packages the most popular of which is the 4 lesson package.

Each course of lessons will consist of 1 x 4 hole course appraisal plus 3 x 30 minute lessons on driving, iron play and short game all using the latest ipad analysis.

The course of lessons costs £100 and can be taken at anytime over the winter period thereby ensuring your game is in the best possible shape for the new season.

Of the 27 pupils who took advantage of last seasons offer 80% reported improved scoring with handicap reductions and/or competion wins last season!!